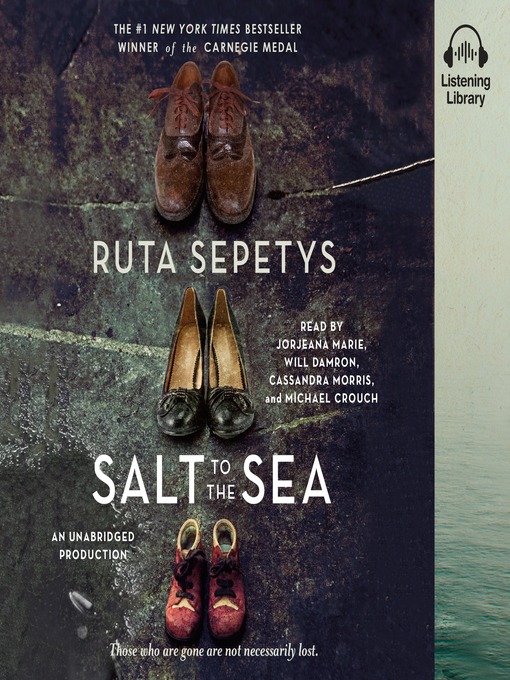 Author: Ruta Sepetys
Started reading: February 7th 2017
Finished the book: February 23rd 2017
Pages: 393
Genres: Historical Fiction, YA
Published: February 2nd 2016
Source: Borrowed from library
Goodreads score: 4.37
My score:
Synopsis:
Winter, 1945. Four teenagers. Four serets.
Each one born on a different homeland; each one hunted, and haunted by tragedy, lies... and war.
As thousands of desperate refugees flock the coast in the midst of a Soviet advance, four paths converge, vying for passage aboard the Wilhelm Gustloff, a ship that promises safety and freedom.
Yet not all promises can be kept.
My thoughts
At first I was not that excited. The book is a bit of a struggle to get in. The last 100 pages gets you going. Thinking about the fact that this really happened, I feel aweful...
Pros
Based on a true story: The cruelty and the lost of so many people in the war, is shocking. We've all heard from WWII, and what happened, but we did not hear about the Gustloff and what happened on the Baltic Sea. This was totally new for me and I feel thankful to have learned more about what happened and to be aware of this fact. I always feel that books that are based on a true story, give you more than just the story. You learn what truly happened in a world that we live in.
There were kind people in the time of war: What is so strong about this book is that it's not the standard "The German are the enemy" book. In this book people from different homelands get connected and try their best to comfort and help eachother while taking care of themselves. I think it's not right to always think the German were the evil people in WWII. There were also the kind people who tried their best to help others and who did not accept what was happening.
Little cliffhangers each chapter: It makes you want to continue reading. The little cliffhangers at the and of a chapter, make sure you read the next, and the next and the next chapter. That's strong about the book and it felt like this carried me throught at some points.
Cons
Really slow start: The book had a really slow start for me. I understand that the story needs to build up, you need to get the characters going and give an impression of the world.. But at some point in the book, somewhere in the middle, I felt like; "Whats the point?" "Where is this story taking me?". It felt a bit too slow, not really going somewhere. Around page 250/300 the story really get's to the point where it wants you to be.
Different POV's: This is not always a con, but in this book it was. You keep switching from character to character. The chapters are only 2/3 pages long, so you "stay" with a character for 2/3 pages and you skip again. Reading about another character, someone else's thoughts, is not the bad thing. It just doesn't really suck you into the story when you have to adapt all the time.
Overall
So.. Always when I see a movie about war, read a book about war, all those innocent people dying.. I feel a bit like this. Other opinions about this book
"Superlative... Masterfully crafted... A powerful work of historical fiction."
-The Wall Street Journal
"Compelling for both adult and teenage readers."
-New York Times Book Review
"Haunting, heartbreaking, hopeful and altogether gorgeous... One of the best young-adult novels to appear in a very long time."
Memorable quotes from this book
"I wept because I had no shoes, until I met a man who had no feet."
"I became good at pretending. I became so good that after a while the lines blurred between my truth and fiction. And sometimes, when I did a really good job of pretending, I even fooled myself."